Opening Times:
During the growing season of March to November the garden is usually open on Wednesdays and Sundays between 10am to 12pm. Outside of these months and particularly if weather is bad (like snow or rain), the garden may be closed.

Finding Us:
There are wooden animal shaped way-markers from three locations to the garden. Please follow these from the following locations:

- On the green opposite Summerfields Leisure Centre car park
- Entrance to woods from the Law Courts
- Entrance to woods from Briscoes Walk (near St Pauls School)
Accessibility:

The garden is located within Summerfields Woods, and there are physical structures outside our control. There are no tarmac paths or similar from either the Summerfields Leisure Centre or the Law Courts in Bohemia Road.

From either entrance there are some steep inclines or adverse camber and especially in wet weather the paths can be muddy and slippery.

As part of the Heritage Lottery grant in 2018, a gravel section of path was added from the garden towards the Summerfields Leisure Centre. However this does not go to the car park of the Leisure Centre and you will need to traverse some grass areas before you can join this path.
Facilities:
The garden does have a waterless toilet which is disabled accessible. Click here for details.
There is a small rain shelter but please make sure you dress appropriately for the weather.
Dogs: Well behaved dogs are welcome, but they must be kept on a lead at all times.
Arrive by car:
There are two car parks nearby. Please check for any restrictions and ensure you display parking tickets clearly.

(1) Freedom Leisure Summerfields, Bohemia Road, Hastings, TN34 1ET.

From the car park, walk towards the woods, but do not enter the woods. When you reach the boundary of the woods, turn left and walk straight ahead, up a slight incline and the garden will be on your right.
(2) Horntye Park, Bohemia Road, Hastings, TN34 1QX.

From the car park, walk back along the minor road you came in on and bear left towards the law courts. Walk past the housing development on your left and head towards the woods passing infront of some barriers to a private car park. When you get into the woods, keep going until you reach a "junction" and turn right. Walk down the hill and the garden is on your left.
Arrive by bus:
Bus routes 99, 100 & 101 with the nearest stops of the Hastings Law Court/Police Station or Summerfields Leisure Centre. Click HERE for details of Stagecoach Buses.
Arrive by train:
Trains to St Leonards Warrior Square station or Hastings and then walk, take a bus (see above) or taxi. Click HERE for details of the National Rail Web Site.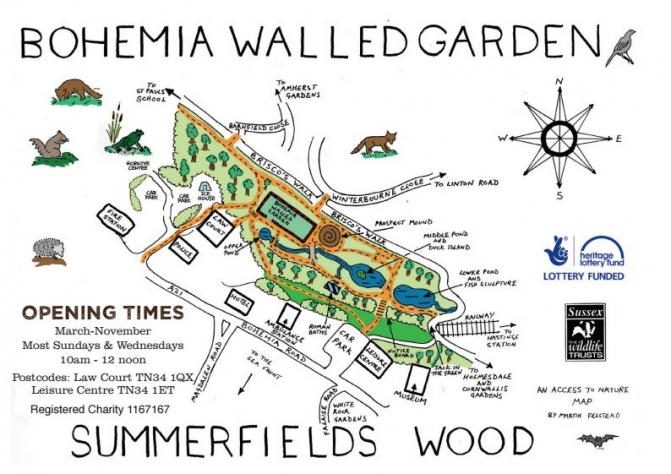 .
.